Hi Everyone,
We have hit the peak of summer in Tucson. Temperatures have been over the century mark for a week. And, our beautiful monsoon storms are beginning to give the desert water, not to mention my garden.
This newsletter has some important information on the Raw Food Diet, the "Economic Colonic", a summer film review and much more. So first, on to the Raw Food Diet information.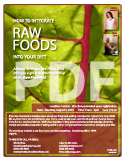 How to Integrate Raw Food into Your Diet
Julianne Montano (
www.latinayoga.com
) and I are giving a Raw Food Workshop on August 29, Saturday from 10:00am - 2:00pm showing you how you can integrate raw food into your diet. We plan to have a fun few hours with some prepped food, some demonstrations, a raw lunch and more information on transition tips, mental, emotional and social aspects of eating raw. We would love to have you participate. I have provided a link to the flyer. Please call or email us to register.
Pass the PDF and word on. We plan to have fun.
---

Raw food is definitely not fiction, however it might seem that way for you because you are so out of control with your highly processed or cooked diet. Raw food means that the food has not been cooked. I am referring mainly to fruits, vegetables, nuts, seeds and honey, however some individuals include raw animal foods in their diet such as eggs, fish, fowl and meats including bone marrow and organs. In this article, I am referring to a vegan raw. That means no animal products.
Why this diet? All the enzymes that digest the food are intact. Enzymes are killed above a temperature of 118 degrees. Enzymes help digest your food. This diet is also alkaline. Most of the foods we eat are acidic except fruits and vegetables. An acid body is the matrix for life threatening diseases such as cancer, diabetes and Inflammatory Bowel Disease. Also, when I went to a raw food institute in 1975 to learn their
curriculum
, my gut felt fantastic at the end of two weeks. My gut felt liberated. So, those are some of the facts.
What about the fad? Raw food is popular now, that is a fact. We have a whole new generation of recipes, people and potlucks. However, this is an enduring fad that is now seeing a huge resurgence across the country. So, if you like fads, jump on the bandwagon for this one. It is a great default diet; a very healthy diet and the new recipes are fantastically delicious.
And, just to ease your concerns, my attitude about the raw food diet is that it is not about vegan fundamentalism or perfectionism or 100%ism. It is about having more healthy options to choose from, more places to go when you are hungry, and that it can be quite healing and peaceful for the body.
---

Our big value, the 'economic colonic', is priced at $49.95 from the day you receive this newsletter until August 29, 2009. Such a deal! People have really taken advantage of this to purchase a colonic series in advance, to use with various cleanses, diet changes, fasts, and to pass the great news on to friends. The key is to mention the words, 'economic colonic.'
---

What's to look at these days? I think we have some winners. Now that the tobacco industry has been exposed, we are moving on to the industrial agricultural food industry. That film would be
Food, Inc.
opening at our local Loft Theater this week. The clip below gives more information.
Film Aims to Expose Dangers in US Food Industry
Christine Kearney, Reuters:
Bigger-breasted chickens fattened artificially. New strains of deadly E. coli bacteria. A food supply controlled by a handful of corporations. The documentary 'Food, Inc.' opens in the United States on Friday and portrays these purported dangers and changes in the US food industry, asserting harmful effects on public health, the environment, and worker and animal rights.
Moving right along, we have
Sicko
by Michael Moore that exposes the US health industry. This film is available for rent.
Finally,
Simply Raw: Reversing Diabetes in 30 Days
. This DVD is based on a book and program by Gabriel Cousens, MD. The book is called
There is a Cure for Diabetes: The Tree of Life 21-Day+ Program
Simply Raw DVD
Diabetes has become a seemingly unstoppable national epidemic, affecting more than twenty million Americans. Conventional wisdom calls it incurable, but renowned Dr. Gabriel Cousens counters that claim with this breakthrough book. There Is a Cure for Diabetes lays out a three-week plan for reversing the negative genetic expression of diabetes to a physiology of health and well-being.
These films will all give you food for thought. They raise consciousness and provide a natural and affordable approach to health. Why not have a viewing party and share it with others?
---

I continue to offer my second floor guest bedroom and bath to one or two people who would like to retreat, cleanse, heal or unplug in general for a short period. I can teach the raw food or Specific Carbohydrate Diet for those that are interested. I can guide you through a GI or liver cleanse and provide colon hydrotherapy and massage. Please be in touch if you are interested.
---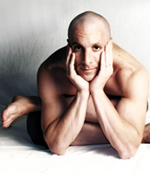 Gabriel Azoulay
Michael Pellegrino who is a master with Rolfing and Cranial will be relocating with his family mid August. I will miss his presence and his wonderful bodywork at the office. Many of you have benefited from his meticulous work.
Gabriel Azoulay
will be taking his place and making the transition over the summer. He is an experienced yoga teacher and Thai massage practitioner. We welcome him to the Intestinal Health Institute. His website says it all, plus he has some DVD's that he has made to instruct yoga. Take a look and contact him for some bodywork.
---

This year I am holding the morning jaunt in the kayaks at the
John D. MacArthur Beach State Park
in North Palm Beach, FL. For all of you nearby, please join me. After the morning float, we can walk to the beach and swim or snorkel. Be in touch for this momentous water occasion.
---

Why do we need to clean and flush our liver?
THINK OF IT AS A COLONIC FOR YOUR LIVER!
As mentioned, it is the liver's job to filter everything we eat and drink and remove anything harmful from our digested food before it enters our bloodstream.
Your liver removes all of this harmful material from your blood that if left behind, will cause heart attacks, strokes, circulatory disease, cancer, neurological disease and a hundred other diseases. This is why many doctors will often say that when you have almost any disease, your liver was sick long before your disease developed.
An unhealthy lifestyle and diet causes the liver to be overworked and then congested with this same toxic waste it has removed from your blood. Now, in its constipated and sick state, your liver cannot get the poison out of itself. This accumulated waste eventually causes your liver to get diseases and even causes liver cancer.
Liver flushing and cleansing does just that. It causes the liver to empty its toxic contents when it is constipated and overloaded with them. Think of it as an enema for the liver.
Since your liver is the defensive barrier between the things you take into your body and the blood that feeds that body, it is often referred to as your first line of defense.
We can help you with your liver/gall bladder flush. Many programs exist and my
July 2008 newsletter
contains a list of 4 different liver flush programs. When you do a liver/gall bladder flush, it is best to do at least 2 colonics to accompany them. One on the final day and one a few days later. And, if you are congested, one to start the flush. You make a week of it and follow a simple vegan or animal-free diet. Be in touch if I can help you with this.
---

When I am working on clients, I realize that I started making changes for the better in my health when I was 27. Now I am 65 and I have to admit it has taken me quite a while. I see lots of people at the office in their twenties. And I see many in their 50's. It does not make any difference what age; the point is to make a start.
Knock off the simplest things first that hold up your health then move on to the harder subjects. For me, bulimia and vomiting were the hardest to let go off. So, I started by practicing meditation, doing raw foods and juices, spiritual readings, living out my life and passion. That included a BFA in Dance. It was during that program that the bulimic habits fell away.
---

www.aflatbelly.com
-
Because some things are better flat!
Zo Carroll, a very qualified fitness trainer in Tucson, has this excellent site. He is also the lead singer for one of Tucson's best dance bands, the King Bees. So, check out the site and make your goal today to get that belly flatter.
Colon Hydrotherapy Prep for Colonoscopy
Many of you ask me about the use of colon hydrotherapy as preparation for colonoscopy. Here is a 2:18 video of the very subject sent to me by an internet correspondent.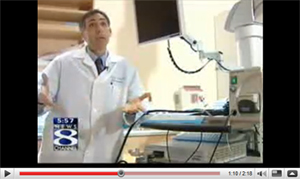 ---
OK, folks, if you have made it this far, you are quite a reader. So, the first person that calls me at (520) 325-9686 will receive a free copy of
Cleanse and Purify Thyself II
by Rich Anderson of the Arise & Shine company.
Let me hear from you.
Lots of love,
Sheila