Sheila's Blog (or Glog - Gut Log)
Hello Everyone,

We are now into our winter season. For Tucsonans, that's great! High temperatures in the 60's and 70's daily and very cool nights. I enjoyed the holidays and yet, rested as much as I could. The office is very active. Many did cleanses over the holidays! I know that is hard to believe for the 'eaters' out there but it does happen. As we enter the New Year, I wish you the fulfillment of all your health goals. Making changes is challenging and yet so possible. In that spirit, this newsletter is chocked full of new and great ideas for you to get you moving in exactly the right direction.

That's the segue into the Raw Food Workshop Julianne Montano and I will be giving as well as so many outstanding links to raw sites that friends have passed my way. BTW, it's not about fundamentalism on any one diet. It's about having some healthy and delicious options. Have fun reading this. First, The Raw Food Workshop!
---

How to Integrate Raw Foods into Your Diet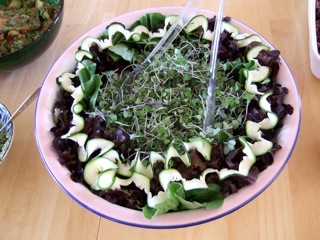 Julianne and I are offering a great winter workshop on the raw food diet. If you are interested in learning more about Raw Foods and getting new ideas for recipes from cool chics like us, then this is the workshop for you.

Come ready to eat, meet new friends and learn how to have to more fun in a Raw Food kitchen. We'll share transitional tips, personal stories and knowledge about the mental and emotional aspects of eating, and the social component that occurs when changing your diet.

The Workshop includes a Raw Food Meal and Demonstrations. Everything will be 100% Organic. You will receive a handout of all the recipes.

Date: Saturday, January 23, 2010
Time: 10:00am – 2:00pm
Location: Central. Directions provided upon registration
Cost: $89.00

To register, call or email Sheila or Julianne.

Sheila Shea [email protected] 520-325-9686
Julianne Montano [email protected] 520-548-9222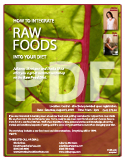 Please pass on our PDF and news about our class. We are going to have great fun!
See flyer here.

---

Raw Food Sites
Raw food is becoming very popular and that is fortunate because it is so healthy and alkalinizing. I list websites, some great places to find raw products, classes and recipes. A whole new generation of raw food practitioners, teachers and recipes have enhanced the variety and quality of the raw foods.

Many superfoods from around the world have been introduced and explained. Lucuma is an example of a new superfood. It's a fruit from a tree native to Chile and Peru. It looks elliptical and bright yellow gold. It is dried at low temperatures and sold powdered. It is used as a sweetener that is also nutritious.

So here goes:

http://www.rawfoodchef.com
Living Light Culinary Arts Institute
High prices and a great training institute

http://www.toothsoap.com
A clean way to brush teeth and other products

http://www.vivapura.net
Vivapura, a raw food company in Patagonia AZ just SE of Tucson
I just bought some of their wild jungle peanut butter and cacao butter. I shave the cacao butter on top of my smoothies. Check out the recipes under blog.

http://www.sunfood.com
David Wolfe, well known in the raw community, has a wide variety of articles and products. You might notice some pretty high prices on the raw foods in general. That's why it's good to shop around and price compare. BTW David is the author of Superfoods. That's a good intro the latest exotic and new raw products from around the world.

http://www.greensmoothiegirl.com
I just ordered Robyn Openshaw's book on The Green Smoothies Diet. She has courses, equipment, books, videos and is a mom of 4.

http://www.womengoraw.com
This is Ariel Policano NMD site. Great video instruction, education and I even got a few good recipes. Ariel is featured later in her article on FATS.

http://www.simplyraw.ca/workshops/recipes/#recipebook
Natasha Kyssa, teacher, author and raw food chef. We are friends on Facebook!

http://www.purejoyplanet.com/recipes.php
Elaina Love's comprehensive site for products, recipes, classes. I copied the Waldorf Salad for personal use.

http://www.livingtreecommunity.com/store2/default.asp
Lots of products and a political bend.

http://www.therawfoodworld.com
Products and good prices

http://www.rawspirit.org
This is Matt Monarch's site. He was in Tucson speaking on raw foods and the people that attended said he spent more time talking about colonics. I'm writing an article on gas and more on him in the next newsletter.

http://www.organicpastures.com/whyraw.html
It just never ends. Another great raw food site for grass fed dairy and meat. Check out the 'why raw'! The volume of sites will keep you busy for awhile.

Now on to my buddy Ariel and her article on the fats, mainly the omega 3's.
---

The Skinny on Fats: Omega-3's
Dr Ariel was in Tucson last year and now she has relocated to San Diego. I miss her and want to share one of her latest articles on FATS. I love fat so the more I know the better off I am. I am a greaser! Her bias is raw vegan. For all of us in the New Year, that's a good way to get back on track.

Omega-3's: Making healthy hormones, preventing heart disease and promoting weight loss!

When we think of fat in our diet, there often seems to be confusion surrounding the types of fat and the amount of fat that is beneficial. Some say fats are important, some say it should be no more that 10% of your diet. Fats are really crucial for optimal human health, so cutting back on them excessively does not make good sense. Some of the areas that fats play a role in are memory and brain health, preventing cardiovascular disease, creating healthy hormones and maintaining health at a cellular level... read full article
---

Making Changes through Colonics and Diet: Client Feedback
Maria jumped right into improving her health. She was having such great results, I asked her to tell her story.
""Hi Sheila,

Per our conversation on Friday here is a note about my experience so far:

I was diagnosed with fibroids about 7 years ago. My symptoms had been dormant for about 5 years by using birth control. A couple of year ago the symptoms were back and my gynecologist stated I was probably going to have a partial hysterectomy before I turned 40. I am 36 now.

In January 2009 I started looking at different options and with the guidance of a co-worker I began to follow a diet mostly of fruits, veggies, sprouted grains, nuts, non-pasteurized cheeses, fresh fish, etc. I also started taking a variety of Dr. Schulze's herbal cleanses and tonics. I started with a 5 bowel cleanse, followed by a 5 day kidney detox program and three months later a 5 day liver detox program.

In December I decided to look into colon hydrotherapy. I told Sheila I was very gassy and once we got started she was amazed at how much gas was stored in me. She suggested I look into SCD (Specific Carbohydrate Diet) and I purchased Breaking the Vicious Cycle. I am still not totally off grains but doing much better and every time I eat grains I am bloated and feel awful so this is making it easier to follow SCD.

The really cool part is the fact that I fast on juices every time I am going to visit Sheila and I use what Dr. Schulze refers to as Formula #2. See below copied and pasted from the American Botanical Pharmacy:

A POWERFUL intestinal vacuum that draws out old fecal matter, toxins, poisons, bacteria, drug residues, mercury and lead

'A STRONG anti-inflammatory and SOOTHING agent Herbal Ingredients: Flax Seed, Pharmaceutical Grade Bentonite Clay, Apple Pectin, Activated Willow Charcoal, Marshmallow Root, Psyllium Seed, Slippery Elm Bark, Peppermint Leaf, Cayenne Pepper Blend '

This stuff is wonderful! In my second and third session I've released TONS of very old stuff along with mucous which no doubt has been stuck to my intestinal walls for decades! The gas is still an issue but it is getting better as well and I know that this is something I need to work on in order to get rid of the toxins which are causing this. I am very excited about my future. ~Maria"

---

An Outstanding Enema Site for Self-Helpers

---

Products at the Office

7-Day Cleanse by Arise & Shine - $80.00
Psyllium/Bentonite, Vegan, Alkalinizing Diet, Probiotic, Herbal Formulas

Flora Grow - $39.00
Probiotic

Pure Synergy - $59.90


T

he original superfood, with more than 25 years of research and use. In that time, Pure Synergy has earned a reputation as the most comprehensive, effective and respected superfood product in the world. Containing more than 60 unique ingredients that include several varieties of algae, grass juices, green vegetables, enzymes, Chinese and Western herbs, Asian mushrooms and phytonutrient-rich fruits and berries. TCertified under the USDA National Organic Program and is a certified kosher product.

Enema Bags - $12.00

Books


Breaking the Vicious Cycle by Elaine Gottschall
Gut and Psychology Syndrome by Natasha Campbell-McBride
Syndrome X by Berkson, Challem and Smith
---

Due to big demand, the "Economic Colonic" is back!
Our big value, the 'economic colonic', is priced at $49.95 from January 23, 2010, the date of our Raw Food Workshop It ends February 20, Saturday. Such a deal! People have really taken advantage of this to purchase series in advance, to use with various cleanses, diet changes, fasts, and to pass the great news on to friends. The key is to mention the words, 'economic colonic' and you've got a deal. And, we will be happy!
---

Retreats at My Home
I continue to offer my second floor private guest bedroom and bath to one or two people who would like to retreat, cleanse, heal or unplug in general for a short period. I can teach the raw food or Specific Carbohydrate Diet for those that are interested. I can guide you through a GI or liver cleanse and provide colon hydrotherapy and massage.

I had another thought about the retreats. We are really designed to move. Exercise is always included in steps to self-care. Some of you might like to become more active in the time you spend in Tucson. Your stay can include hiking, kayaking, swimming, tennis, cycling and/or walking. I can guide you or point you in the right direction. All this, while eating well, hydrating and having some quiet time. Think about it.

Please be in touch if you are interested.
---

Office Space for Rent
I have a beautifully appointed, spacious room for rent for the right practitioner. I prefer someone with an active practice. We are centrally located with kitchen, foyer, office and library facilities. Chi Nei Tsang would be a good fit. I would love to hear from the right person. Call or email Sheila at 520-325-9686 or [email protected].
---

Services
Colon Hydrotherapy Spa & School, Consultations, Retreats & Raw Food Classes.
---