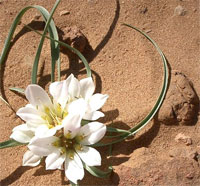 I hope you are having a great spring. We have had a wonderful time in the desert in Tucson, AZ with spring rains and a beautiful display of wildflowers. Now we are heading into summer. Another perfect time to cleanse, drop the weight, lighten up on the diet, drink raw juices and take care of oneself.
During the spring, many people came in, received colon hydrotherapy and made some great changes in their life. More and more people are committed to doing the work to make the health changes they want to see and experience in their life. Clients are putting their foot down, letting go of old habits, getting back on track when they deviate whether while traveling or taking care of stressful situations. I like this new change in attitude. People are taking better care of themselves, losing weight, going off diet Coke, reducing or letting go of coffee, reducing and eliminating complex sugars, increasing their fluids, getting into a consistent workout program. I want to congratulate all of you. It has been a good spring!
---

Many ask about
frequency
of colon hydrotherapy sessions. This topic of how many colonics and how far apart deserves a paper of its own. However, I would like to share a few thoughts with you on frequency. The answer to 'how many and how often' can vary. I have visited various colon hydrotherapy offices and schools around the country and have heard various clients and practitioners come up with their own variations. I do not think there is one answer to this question.
In my practice, I suggest that each person start with 3-5 colonics close together. The initial colonic is an assessment. Very often it takes a series to "get the energy moving", to have a breakthrough in which the dam breaks and the waste and gas really start moving out, a breakthrough during which the client releases long pent-up tension in the gut. On the first one, waste may or may not eliminate. The client is getting used to the process. People come in with a variety of backgrounds, conditions and awareness of what they store in their gut.
Three can be taken 3 days in a row, every other day, or every third day. One client in his forties wanted to lose weight and cleanse and had 3 in a row. He felt better each day, lighter. The last day, he said his "shelf" in the front had gone. I wish that were so with everyone. Many cases are very difficult and require more time.
When clients do our 7-Day Cleanse by the Arise and Shine Company, I suggest one colonic at the beginning, middle and end. This is also true of the parasite and liver cleanses. The colonics are a perfect accompaniment to the cleanses.
Doing the colonics a week apart initially is not as effective energetically and physically as doing them daily for 3 days, or 2-3 weekly for a few weeks to let the bowel learn how to let go, to loosen up some of the impacted stool that has made a permanent home in the gut and release that inner tension that operates many times below the level of awareness.
Some people have let themselves go so long, some have chronic constipation and some, they wait until the last minute, exhaust every avenue until the light goes on and then say, "Okay, let's deal with my gut now." It takes time to turn the gut cycle around, to release rather then retain.
This is just the first snippet of frequency of colonics. Some offices start people with 12 sessions, 2 the first 3 weeks and then once a week for the next 6 weeks. Some purchase a series of 5, do a fast for 5 days and benefit from daily colonics. I look forward to working with you and what is the most effective program for your health goals.
---

Very often, women call in the day before or the day of their colonic and say that they are on their period and ask if it is okay to receive colon hydrotherapy. I say, 'yes', it is a great time to receive the therapy! The cleansing of the bowel goes hand in glove with a cleansing of the uterus. The colonic session includes a beautiful massage of the abdomen. I use my hands and then I have a wrapped hot rock that I place on the abdomen during the gentle inflow of the water and then massage the abdomen with the hot rock on the water outflow. Women feel the deep relaxation the cleansing, the massage and heat provide to the belly and the womb.
---

I am putting out the word that I would like to have a part time practitioner of colon hydrotherapy work with me at the office. If interested, please fill out our
application form
(PDF), contact me at (520) 325-9686, or
email me
for further information. This is a great opportunity!
---

Last Minute Notice
Alexsandra Bajinska, PhD, will be leading a Chi Nei Tsang fundamentals workshop shortly in Tucson AZ. If you are interested in getting dates and prices, give her a call at 520-881-2091.

Trauma Resolution Skills Workshop Recap
www.michaelsheateaching.com
This wonderful spring in Tucson also included the Trauma Resolutions Skills Workshop that my brother, Michael Shea PhD, gave April 10-13. We had 15 students from Tucson, around the country and Canada. We all received 26 CEU's from the NCBMTB! The format included a meditation, lecture and hands- on bodywork.
Mike's workshop was deep with new information on embryology, one of his specialties, on healthy ways to be with our clients, how to do a meditation alone and with clients, and so much more. As a colon hydrotherapist, I got more insight into the client–therapist relationship so that both of us gain the greatest benefit from each session.
Michael's background is Biodynamic Cranial Sacral work and research. 'Biodynamic' means treating the whole, a felt sense of 'wholeness' and health, and a wholeness that is constellated from the moment of conception. The Biodynamic Cranial Sacral therapist works with body fluids that inform our nervous system. Michael describes trauma as a problem with the whole and says that our focus on trauma has replaced our true 'origin story.'
Michael suggests we get off identification with our trauma and track experiences of our 'origin story.' So how do I do that? Here is Mike's map. Become aware of the incidences in your life when you felt the following: one, your wholeness as a 3-D body; two, a heart felt sense of warmth; three, love; four, joy and; five, empathy. It is a great way to begin to shift out of dwelling on 'what's wrong' and create your story that feels good.
What is the 3-D body? First, imagine your skin wrapping your body in the 3-D way. Feel it, see it in the mind's eye. Second, imagine your inner fluid body, a 3-D version of your inner fluid. After all, the body is more than 70% fluid. Mike says, see if an image of water comes to your mind or imagination, a lake, stream, waterfall, a rainstorm for example. In one of our meditation exercises, I saw a huge waterfall with kayaks going over it!
As part of that meditation, we were encouraged to allow our focus to go out to the horizon and back into our body. In the embryo, the whole human is not completely inside initially. For example, the heart is outside the embryo and eventually is drawn inside. This inside/outside pattern repeats itself in our adult life. Our focus can flow back and forth from within to outside ourselves, to the horizon and then back into our self. Ideally, this occurs in a rhythmic and balanced way. Problems begin when our focus is stuck inside or outside our self. The idea is to keep the flow going. See if you can notice this inner to outer focus flow in your daily moments. Sometimes, the initiation of the switch from inner/outer focus is felt by a deep or quick or noticeable breath.
The idea is to keep the flow going between the inner and outer. The analogy with the gut is retaining and releasing. We take in, we let go and the pattern repeats itself. We stay in a beautiful balanced flow in our bodies, working toward more fluidity and mobility when we feel we are stuck. We take measures to bring about a balance of focus, flow, retain and release. Colon hydrotherapy can help bring about this balance.
Rather than tracking trauma in your life, begin to track healthy, heart-felt, joyful, empathic and body-centered experiences.
Mike plans to come again next year and I will be informing all of you when we have the topic and date ready.
---

A Kayak Adventure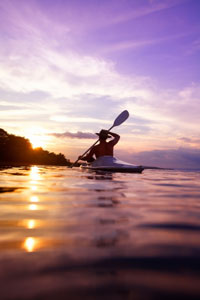 This is for the exercise buffs that live near
Jonathan Dickinson State Park
in Hope Sound, FL or wish to travel a bit to meet us. Camping is available in the park, too. Hope Sound is just north of Palm Beach county FL.
I am heading home a day early for a family reunion in Juno Beach on August 13, Wednesday. The next morning, August 14, Thursday, I am leading a little
kayaking trip
on the Loxahatchee River in the park. It will take from 3-4 hours. We arrive at the rental concession in the park at 8:45 AM, get our boats and gear, haul them down to the water and enjoy a peaceful paddle down the river a few hours to Trapper Nelson's and then back up. No rapids, currents.
They have 9 double kayaks and 15 singles. The doubles go for $33.93 per boat and the singles go for $28.61 per boat for the 4 hours. Safety jackets and paddles are included. Get into your fluid body on the fluid river! Let me know if you want to join me. Email
[email protected]
or call 520-325-9686.
The Recipe Buzz
What's the latest recipe buzz at the office? More and more people are embracing eating more living foods (uncooked) and the Specific Carbohydrate Diet (zero tolerance for complex sugars such as foods based on sugar, milk, grain, bean and starchy roots). As a result, I have been exchanging recipes people really like. One woman went home and made the pizza from
Breaking the Vicious Cycle
, the zero tolerance for complex carb book. The pizza is made from almond flour. I tried the pancake recipe from the same book and was amazed how good they are. Once again, the batter is mainly eggs, almond flour, honey, vanilla, baking soda and sea salt. A sugar-free strawberry jam came in high, made with honey.
I gave one of my raw recipes to a client and she came back and raved. I call it the Honey-Mustard Dressing. I do not have proportions but I think you can figure it out. I use organic raw cashews, honey, mustard, sea salt and water. I put the ingredients in the blender, add the water, puree or liquefy and then adjust for taste. It is like a creamy ranch however more pure, raw and organic.
I finally have proportions for my pesto, a favorite for parties, snacks, and any time. All organic: one pound walnuts, one cup olive oil, one lemon juiced, one to five cloves of garlic, sea salt and pepper to taste, and eight ounces of basil. Put all ingredients in food processor EXCEPT basil. Pulse to desired consistency creamy to crunchy. Add the basil and pulse in. Adjust for taste.
My thoughts on natural foods: the more I do foods that are natural, the more they guide me to eat natural. Part of this whole healing movement is to move closer to nature. I have to say that one of the problems with the grains and other complex sugars is that they set up cravings, fatigue and hunger. That is what so many clients complain about. My natural eating excludes for the most part the complex sugars for that reason and other health reasons; they are the major culprits in inflammatory disease, autoimmune conditions and malabsorption syndrome. Life does exist beyond them and with much more quality.
Also, I jumped into a new MLM, a travel company called
World Ventures
. I am told their benefits are in all aspects of travel especially dream trips, vacation rentals, hotel and car discounts. I have been told you do not need to join to participate in some of the good pricing.
I hope everyone has a great summer. Tucson warms up and we do have the monsoon season to look forward to July through September. Keep on healing and taking care of you, one day at a time. This is a daily process. Go within, breath, meditate and create your own beautiful origin story.
Be in touch.
Sheila Shea