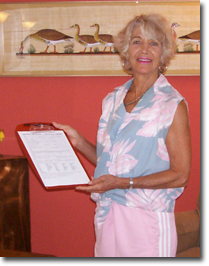 Hi Everyone,
The winter moves by very quickly in Tucson. When it is cold here, it is hard to imagine that it will ever be hot. And, when it is hot, it is hard to imagine it will ever be cold again! However, spring is happening already. Pomegranate trees are leafing. African daisies abound.
And, many during these cooler winter months have moved through some very exciting cleanses. I am continually amazed by the commitment and dedication that my clients have. I encourage all of you to continue to focus on your health. Health includes diet, exercise, fluid, cleansing and attitude.
The $49.95 Economic Colonic!
The economic colonic was very successful and I would like to offer it again. Colon hydrotherapy sessions will be $49.95 until March 25, 2009 for those who mention this discount. You can also mention it to friends just as long as they mention the discount offer when they call and come in.
Some who took advantage of this offer in late December and January purchased a number of colonics and turned it into a cleanse, a healing program, an opportunity. If you choose to go this route, I can advise you on various cleanses available or diets that you might want to follow to get back on track.
---


[Download Flyer]
Michael Shea, PhD returns April 30, 2009
www.michaelsheateaching.com
This 4-day course introduces students to the skills necessary to begin to work with 'Primary Respiration', a therapeutic tidal-like movement in the fluids of the body named by Dr. Sutherland, the founder of Cranial Osteopathy. Working with this movement requires a still heart, deep perception and listening skills.
So the introduction begins. Mike will be in Tucson AZ teaching from April 30-May 3, 2009. This introduction will be the preparation for the full training of Foundations of Biodynamic Cranial Sacral work. Location will be the Randolph Park Hotel and Suites again, very centrally located. We look forward to a wonderful workshop again with Mike!
It will be great to have my brother, Mike, back this April. He is a great teacher and resource. He is now working on volume 3 of
Biodynamic Cranial Sacral
work for his publisher and teaching throughout the country, Canada and Europe. I want to encourage all of you who wish to earn CE's and extend your knowledge and practice of this sensitive bodywork to join us.
Download the flyer for full information and registration. See you in Tucson in April of 2009!
---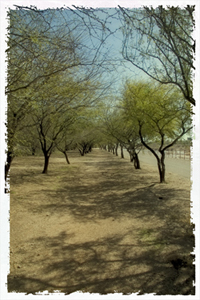 Photo courtesy of Arizona Eclectic
I have mentioned the possibility of spending time at my home to do a retreat or a cleanse. I had my first guests during February take advantage of this offer. A long-time friend from New York and her business partner arrived for a weeklong cleanse. They decided they wanted to do the
Arise & Shine 7-Day Cleanse
, raw food and 3 colonics. Michael Pellegrino, at the office, also worked on one of my guests with his excellent cranial and Rolfing work.
I feel they had very specific health goals and felt very satisfied that they had moved into a better health zone than when they arrived. They both mentioned that their bellies had shrunk significantly! That is to be desired!
I have an empty guest bedroom and bath on the 2nd floor of my home. I know that a number of you would like to take a health vacation in a warmer climate and an opportunity to juice, exercise, take colonics, meditate, read, rest and maybe imbibe some of the art scene and environment of the Sonoran Desert.
My home is within walking distance of the Rillito River Park with miles of paths for cycling and walking. I have a new bicycle in the garage! The sun shines nearly every day. The Racquet Club is 10 minutes away with swimming, spa facilities, tennis, classes and much more. Many yoga schools are within 10-20 minutes of the house.
My guest bedroom and bath is available to rent. If you want to spend some time here, give me a call or email and we can work out any terms so that your stay is what you need and want and is reasonably priced.
---

www.bodyblisscleanse.com
www.foodawakenings.com
www.livefooddoctor.com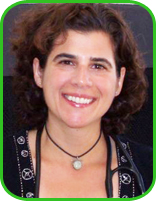 Ariel Policano NMD is a graduate of National College in Portland, OR and has relocated her practice to Tucson AZ. She has asked me to speak at her second of 3 classes this winter. She gives a series of 3 talks designed to support her patients that are doing her cleanse as well as to educate them on cleansing, diets, juicing, enemas, colonics and other issues that come up during cleansing and making health transitions.
Ariel has a small book she has written on her 2-week cleanse and the 2-week cleanse kit. She has designed the cleanse herself. I would suggest that those of you who would like to be guided and/or who have extensive health issues and would like a health manager be in touch with Ariel. She is continuing her 'cleansing' series of talks and 2-week cleanses through April.
---

I remember when I was 10 years old I found a book in our family library on breathing. I realized it had been suggested to my father and I began to read it. Later in life, I studied Chi Nei Tsang, a Taoist system of healing the intestines through breath, movement, toning and massage. One of their keys is to breath deep into the abdomen.
I knew that most of my life I was a very shallow breather. I think it comes with constipation and trauma. It actually hurt to breath into my belly. It was so full, so gaseous and so painful. Now that I have cleansed, taken many colonics and enemas and stabilized my diet, I can say that I can actually breath into my belly fully and pleasurably.
I feel like I am a more complete person with more complete breath. I want to encourage all of you to breath more deeply, bring the breath fully into the pelvic floor. It is very freeing. If you do experience pain, gas, bloat or any interference with your breath, make it your exercise to transform yourself so that deep breathing is a pleasure. That can be a measure of your health.
---

I have a beautifully appointed office and private room available for someone in the holistic field. If you are a body worker, acupuncturist, therapist and so forth and need a great space, give me a call at (520) 325-9686 or send an
email
.
It is a pleasure communicating with all of you. I wish you continued health, the foundation for a very productive and peaceful life.
Sheila Shea